Starting every spring, I start on a quest to find the right white jeans or slacks. I like cropped, bootleg, and skinny white jeans, but I also like a flat front white pant with no buttons, pockets, etc.
So this year was no different when I started my search for "the perfect" white pants. I tried J Crew-nope, then I tried J Brand-nope, then I tried every online website. Still no luck.
I'd pretty much given up, then I decided to check out Gap's website. I found these jeans in, um….the kids' department. Do any of you vertically challenged ladies ever shop in the girls' department? If not….run on over.
I ordered these GapKids' destructed white jeans in a girl's size 16—which equals around a size 4 in women's. They are the perfect fit and length. It's hard to see in the picture, but there are areas of distressing. These are definitely more casual, but I think they're so fun for summer. The best part? They were on sale for $14.99!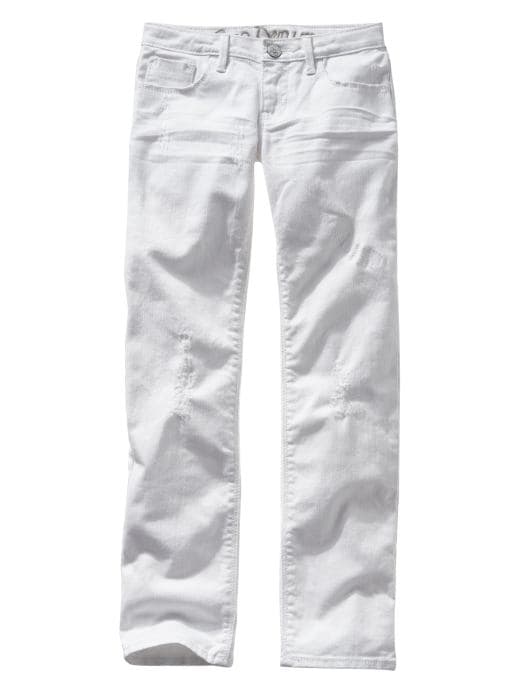 GapKids' Destructed White Skinny Jeans
The next pair of pants I found came from Wal-Mart. Yeah, you heard right. I was in there the other day to pick up some cleaning supplies, and I saw these pants close to the aisle. It's the same as the style below and they're the "White Stag" brand. I didn't see the white ones online, only khaki and black. They also come in petite. Price: $9!
These pants are more like twill leggings. I like these type of pants when I wear more fitted tops or tunics. You don't see bulky buttons or pockets. They also come up higher so you don't have a muffin top;-)
"White Stag" brand stretch twill leggings (obviously not in white, but this is the style)
The last pair of cheap white jeans I found are from another atypical store…..Sears. (They also sell them at Kohl's and JCPenney). They're Gloria Vanderbilt "Amanda" stretch jeans. They have just enough stretch in them to be comfortable. They come in lots of other fun colors too such as lilac, light yellow and putty color. For reference, I have the size 4 short or petite size. I may go back and get the regular length to wear with heels.
****WARNING: Many of you young chickies may consider these "Mom jeans" because they have a higher waist. They come just under my belly button. If you have a little belly fat like me….you should try these. They don't leave you with that weird "Dunlap Syndrome". It's when your belly done lapped over your jeans. Ba-boom-boom-cha. It's actually nice to have a pair of pants that the waist doesn't hit my iliac crests & show my crackola. I know--- TMI:-)
The pics on the website are horrible. So here's how they look on me.
Excuse the poor quality iPhone pic.
I like how the back pockets sit lower.
Have you found any white jeans that you like? As you can tell, I kinda like them. I've heard great things about Lands' End Canvas jeans.