I don't have a titillating blog post in the works, so I'll share a few nuggets of "This and That".
I survived the Great Blizzard of 2011. We had an estimated snowfall of 20". Insane, right? The kiddos were out of school for 4 days, so it was a challenge keeping them occupied from Tuesday until Saturday. Have I mentioned that I'm ready for spring?
I did A LOT of cooking last week. I made a sweet Russian friend's rice, celery, green onion, radish salad. It is so yummy. She was the one that won 1st place at our Christmas get-together. The flavor is so refreshing. It reminds me a little of a light pasta salad.
I will be training at the beginning of March to be a "Yoga To Grow" certified teacher. It's an intense week long (35 hour class) and when finished, I'll be able to teach yoga to children. I am SO excited. This is such a great opportunity for me to share my love of yoga with little ones.
I am loving Archer Farms "Black Pepper and Sea Salt" chips from Target . I may or may not have eaten a couple of bags this month.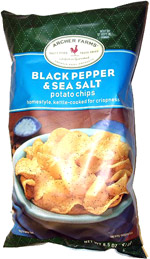 Hubby and I finally got to go out on a date night last Saturday. Boy, did we need it after being cooped up all week! It's amazing what having an uninterrupted dinner and conversation can do for your marriage. A big ol' steak doesn't hurt either.
I made a visit to Marshall's and bought these colorful scarves. I'm really tired of all the black, gray, and brown I've been wearing. What better way to inexpensively add some color to an outfit!
I've been eating horribly for the past few weeks, so after a friend's recommendation, I ordered the Arbonne brand "Detox Spa 7 Day Body Cleanse". I just started today, so I'll let you know how it goes. I've done another supplement cleanse, and let's just say...I was wrecked. This one is supposed to be less intense. This kit includes 7 small bottles that you add to water & drink throughout the day. The ingredients include a "Full Body Cleansing Blend" and a "Superfood Antioxidant Blend". I bought mine unused and sealed (of course) on eBay from an Arbonne dealer. So we'll see how it goes.
I hope everyone is doing well and staying warm. Have a great week! XOXO