From my last post, you can tell I'm more than ready for Spring. The trouble is….it's still in the low 40's here. That makes it a little difficult to wear those cute rompers and sleeveless floral dresses.
There's nothing more uncomfortable than having your legs freeze, but on the same note, you're tired of wearing heavy sweaters and cords. What's the solution? For me, it's layering for warmer afternoon temperatures and wearing florals and prints in bolder colors and saving the lightweight fabrics and pastels for later in the Spring.
Here are some great transitional pieces to get you through this last bit of Winter.
Laundry by Shelli Segal Bell Sleeve Eyelet Shift Dress
Love the sleeves on this dress! Break the old fashion rules of not being able to mix navy and black, and pair this with black tights. Flats will complete a day look, and throw on some chunky heels for nighttime.
Milly 'Garden' Batik Print Silk Dupioni Dress
Wow! How many seasons could you wear this dress?
Pair it with bittersweet Spanx tights and brown booties.
Throw on a cute cardigan, and here's an outfit you can wear Spring or Fall. I love pink with dark brown!
J Crew Cashmere V-Neck Cardigan
Trina Turk "Botanical" Strapless Dress
Now this is my kind of floral! I like that the flowers are tempered with the black background. I can't wear light, girly florals. I like mine bold and with a dark background. Again, this is another opportunity to bust out some black tights until it's warmer.
Arden B Charm Paisley Print Ruffle Dress
I am soooo in love with this dress. It has the most wonderful colors and it's so versatile. For a more casual look, I'd pair this with a denim jacket and tall tan boots with bare legs. To make it more feminine, I'd wear a cardigan and these:
or these:
The best part about these??? They're made by Born, so you know they're going to be good for Mom feet comfortable. Love the large flowers and cork.
This lightweight jumpsuit offers a lot of options. Gotta love the price….it's only $26.70!
Add bright accessories like this: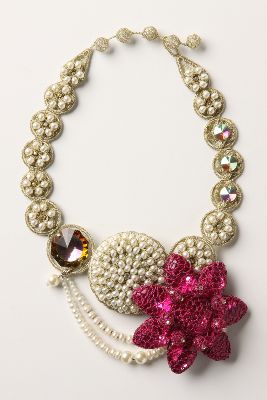 Anthropologie "Flora-In-Focus" Necklace
or something like this
Diane Von Furstenberg "Animal Spot Gauze Scarf"
Have a great weekend!