I am more than ready for fall and all the fashion trends that goes along with the season. During the recent Gap, Old Navy, and Banana Republic "Give and Get" sale, I was lucky enough to score a 30% off coupon to their affiliate sites, Piperlime and Athleta.
Here's what came today. Love, love everything and now I'm just waiting on the temps to get below 80;-)
Miss Sixty "Honore" Bronze boots
I love these! The flash on my camera makes the color on the cuffs seem considerably lighter, but they're closer to the boot color.
Here's the same shoe from the website. IRL, it looks like this.
photo source: Piperlime website
Nine West "Rocha" taupe suede heel 
Now on sale for $59.99 (also in other colors)
This is a great neutral shoe. I like the patent heel and sole. The patent leather will definitely keep the shoes from getting so dirty.
These are going to be my "go to" casual boot this fall. Very comfy…a little narrow in the heel, but I think it'll stretch out when I wear them.
photo source: Piperlime website
Jack by BB Dakota -- black coat
If you order coats/jackets from BB Dakota, order up. I'm usually a small, and the medium in this is a perfect fit.
This is a cute sweater dress from Athleta. I was worried the front pleat would look too prominent, but it's not a big deal at all. I now want to order the gray in this. I can't wait to wear this with leggings and tights.
Athleta "Tadasana" tunic dress
Here it is in the gray color.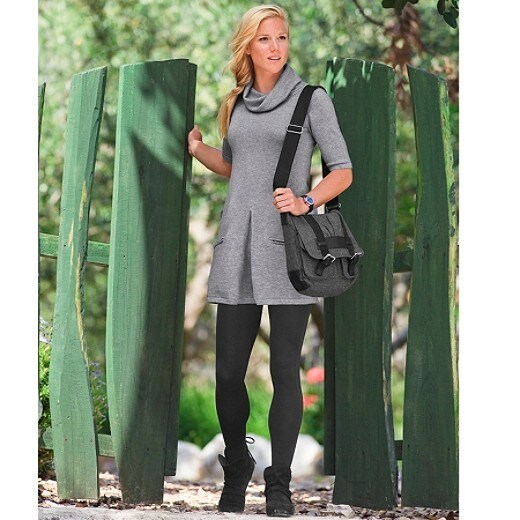 photo source: Athleta website
Last but not least…..
"Jack by BB Dakota" Janika style faux fur vest
This is a fun vest! It has a little hook to close the vest if you want.
Funny story: Last Halloween, I wore a cream turtleneck and a similar fur vest from American Eagle with jeans and boots. I took the girls trick-or-treating, then they wanted to go to the mall because the stores were also handing out candy. As we were walking around, an older gentlemen came up and asked me if I was dressed up as Davey Crockett's wife. haha! I guess trying to be fashionable on Halloween backfired.
XOXO